For those of us that already have a verified business in Google My Business, we have some interesting news. You can now update your business info directly from the Google search engine result page. Please remember that need you to make sure you're logged in to your Google My Business account.
Let's try editing your Google My Business Page right from the search page
Let's dive right in and see how it works. To get started, just type the name of your business in the Google search box and you will see a menu right above the search results. Again, you need to be logged in to your Google My Business account. After you click the edit info button, you will see all the fields you are able to edit become highlighted.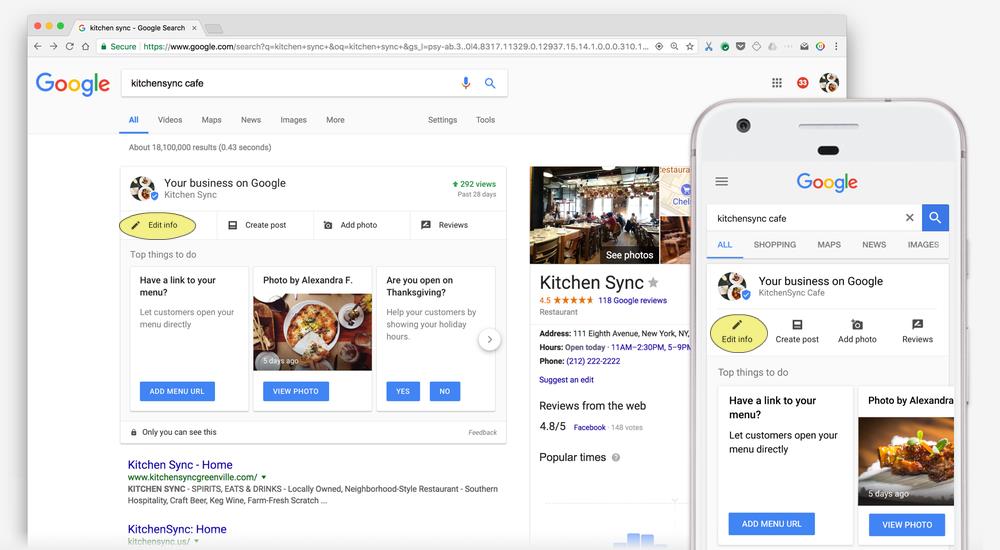 From here, you will be able to upload photos, see the number of views, check and respond to any customers reviews, and even access detailed info about your site metrics. The best part is, you can do it from any device, in your office on your desktop or right from your mobile device.
Google heavily relies on the business owners to provide accurate and updated information to their users. Google realized early on that if they want valuable content for free, they have to make the process simple and easy.
Now lets take a quick look at Why Google would do this?
For starters, who is best suited to provide the most accurate information about a business? The business owner, of course. Google decided to create a process to outsource the business info-update process, and now this process has just become a little more efficient. The good news is, this is a win not only Google but it is also a win for clients of local business because they get info directly from the business owners. The business owners win by getting to provide info directly to potential clients. Google wins by having the most up to date, timely and accurate local business info. A win-win-win situation for everyone!
If you are a business owner and you have not setup your Google My Business page, please contact us and we will send you a free guide.