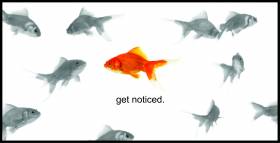 One of the most practical ways to grow your business is to get your business online… AND get potential customers to find you. Fun facts:
97% of consumers go online to find local businesses

More than one out of five Google searches are local

40% of consumers say they not comfortable with a product or service if they can't research it online
If these consumers can't find your business online, they're going to find your competitors. Let's go over three steps that can get you online successfully.
STEP 1: Get visibility with business listings
Business listings are your business, address and phone number in a directory
The directory can be online (think YP.com) or offline (think yellow pages). A lot of publishers will allow you to add business listings at no cost, and sometimes you can sneak more information like a link to your website or your hours of operation. You can often utilize listing sites that are specific to your business type. Lawyer.com, Yelp.com, YP.com are very popular listings. Even Google Maps can be an excellent tool to get your business online.
Consumers find businesses by using search engines or searching a directory
When a consumer uses a search engine they will often return business listings and web listings in the result. Generally, business listings rank higher than regular web listings. When a consumer uses a local search site or directory they will get info on your business which may include additional details such as a link to your website, hours of operation, ratings, reviews, photos, coupons etc. Often publishers allow searchers to post ratings, reviews or comments to listings. It is a tremendous advertising opportunity.
Three tips for getting visibility:
1. Get on the top sites. Google, Yahoo, and Yelp are just a few.
2. Keep your listings straight forward, accurate, and consistent. You can alienate potential customers with inconsistent or inaccurate listings.
3. Pay attention to comments or reviews and respond to them. It's important to manage your profile. Obviously we want positive reviews but here are some suggestions to help you deal with bad ones.
a. Respond quickly and appropriately. Show concern but don't take responsibility for an issue until you've confirmed it.
b. Try to resolve issues offline. It's easier to work a situation when it isn't playing out for the world to see.
c. If you succeed in getting the issues offline you or the client should follow up on the original posts so there is no question of its resolution.
d. If a review seems illegitimate or fraudulent, the publisher will usually remove it if you contact them.
STEP 2: Have a practical website –give visitors the info they want and utilize Search Engine Optimization.
Customers want contact info, the products or services you provide and pricing (where appropriate).
In this brave new world of smart phones, tablets, Wi-Fi, and LTE be sure your website is optimized for mobile screens so consumers can contact you when they find your site. New technology has had a HUGE impact on web searching. 60% of shoppers use smart phones or tablets to perform their searches.
Make sure your site is mobile responsive. Visit your website on your computer. If your site does not adjust as you zoom in or out it is probably not mobile responsive. We can help with that.
Here are three things to determine if your website is optimized for search engines:
1. Make sure search engines can find you.
Search Google, if your website doesn't show up Google doesn't know you exist. If your site shows up, look at the number of results and determine if this number is the same as the of pages in your website.
2. Make sure your site is relevant to terms your potential customer base will use to search for you.
Identify words, terms, or phrases your customers may use. The obvious place to look is the visible content on your site. You also want to look at title tags (descriptive titles for each page of your site) and meta tags (describe each page of your site in more detail than title tags). These give searchers context about your site.
a. Keep title tags to 65 characters or less.
b. Keep the most important keywords at the beginning of the description.
c. Make title tags readable, not threads of keywords. That way people will be able to read them easily.
d. Each title tag should be unique to the page it is describing.
3. See if search engines are prioritizing your site over other similar businesses. You can check by searching for your business using terms you previously identified.
a. When possible, use your business name in your url (mybusiness.com)
b. Make sure your name and contact info is on your site. Ensure all links to your website are accurate.
c. If your business is local, reach out to the Chamber of Commerce, paper, bloggers, and related sites.
STEP 3: Add great content to both your website and business listing
When a customer finds your website or your business listing they want enough information to determine if they should contact you or not.
Your site should look professional but you don't go crazy with flashy designs and over the top graphics. Additionally, make sure your site sets your business apart from the competition. Stand out.
Some content should always be included no matter what kind of website you have.
1. Your business story in text, photo or video. Tell your story with photos and videos to make an impact.
2. Specific information about the products or services you provide
3. Pricing information
4. Raves and recommendations from your customers
5. Contact information
As you plan your online strategy, Marlin CS will be there to offer you our knowledge and experience to make this potentially stressful process as smooth as possible. We look forward to the opportunity to work with you as you develop your internet business tactics.
Source: MarlinCS Blog