In today's world, it is absolutely paramount that business owners have the right tools and implement the best strategies in order to make their business websites attractive to Google. As a business owner, you want your company website to rank high in Google search engine results. 
Choose the right SEO plugin.
WordPress SEO plugins are the bomb! They have the ability to:
Affect page loading speed and overall performance.

Boost SEO.

Augment your business website's security. 

Bring up backlink information, important stats and keyword rankings.

Improve your business website's rankings in search engine results. 

Fix broken links.

Conduct comprehensive SEO audits.

Help you find authoritative posts and pages.

Reorganize your company website's structure. 

Effectively optimize your company website.

Keep you ahead of the competition.

Increase brand visibility.
A reliable hosting service for your WordPress site is a great way to earn SEO ranking and beef up your website's speed, however it's only the beginning. In fact, 75% of consumers who search using Google admit to never clicking beyond the first page of search engine results. This is why your website optimization (in collaboration with smart keywords, knowledge of search intent, content readability and image files sizing) is a MUST. It's the only way to earn traffic that is organic (free) and relevant, which will boost your conversion rate. Furthermore, a solid SEO plugin will help speed up your optimization tasks more efficiently (sometimes automatically), freeing you up to strategize with your marketing team in order to stay on top of the latest SEO data and quickly employ strategic, results-based plans in order to boost productivity. The benefits are truly endless. 
Obviously, when it comes to optimization, a good SEO plugin makes all the difference, BUT… How on earth do you tell the good from the bad?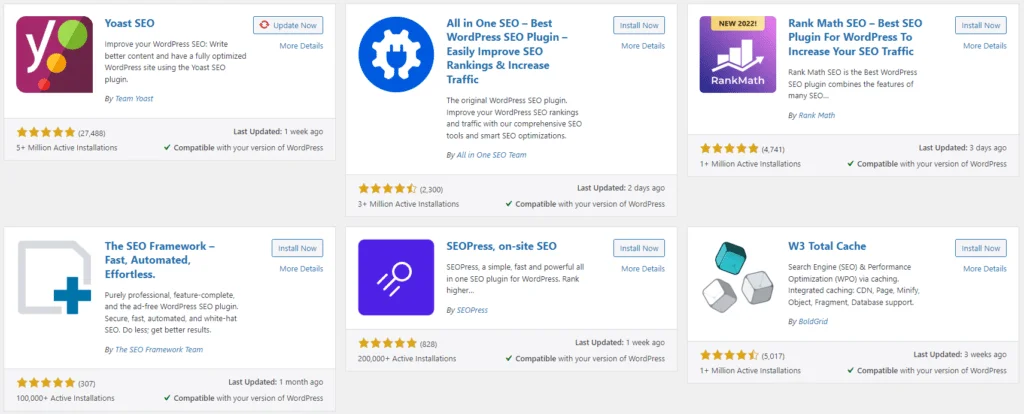 Good WordPress SEO Plugins:
Yoast SEO

is user-friendly, especially for beginners, and offers:
Page Optimization

which allows you to easily manage page titles, URLs and meta descriptions. You can easily create an optimized, customized web page title via the user interface along with an SEO-friendly URL and unique meta description. You can then review your SEO report which will allow you to improve blog post optimization. In addition, you can easily switch on the robot tags or turn them off. This function allows you to manage your web page's "discoverability". 
The Robots.txt file communicates with search engines in regards to which pages are crawlable. The Yoast SEO plugin allows you to change your robots.txt via the user interface which is a time saver. There is no need to install, modify and upload the robots.txt file with each and every change, plus the file is protected from accidental overwrites resulting from system updates. 
Google Search Console allows you to authenticate your company's website by copying and pasting an HTML code into the Yoast user interface. This is a huge benefit as it allows you to capture powerful SEO data. It is also further code protection against accidental overwrites when it is added through the plugin. Yet another time saver as you won't need to re-add the code post site-code modification. Frankly, web developers and SEO specialists are experts at carefully handling theme modifications and WordPress updates, but I digress. 
Sitemaps are crucial for SEO as they provide search engines with lists of pages to crawl on your business website. Yoast's auto generated XML sitemap automatically updates as you post new content to your website. You can improve search engine accessibility to certain website sections via the user interface through the XML sitemap. 
The free Redirection Plugin from WordPress' plugin repository

is fabulous  for managing redirects and preventing your users from getting 404 error messages. These are easily managed via the user interface in your WordPress dashboard. The plugin is updated regularly, is secure and is also user-friendly, aiding you in reporting errors on alternate servers (broken links, 404 errors) with info entailing the way in which the error was accessed. 
The WP Internal Link Juicer plugin

works specifically to help optimize your company website's internal link structure, automatically linking phrases and keywords from your posts and comments to relevant blog posts, pages, tags and categories. This plugin avoids fraudulent SEO practices while creating internal links. 
MonsterInsights

helps you track your business website's analytics and performance, is user-friendly and sends Google Analytics data straight to your dashboard. This is great for measuring customer engagement on your website as well as understanding how consumers search for you. You are able to monitor frequently visited pages via the content reporting feature. MonsterInsights is a simpler alternative to the more complicated Google Analytics as it streamlines the gathering and interpretation of data. You'll never need to login to your Google Analytics account
Improve your company's web page speed with the

WP Super Cache

plugin which allows you to test loading speed across several of your company website pages. You can then leverage Pingdom tools or GTMetrix. Simply turn on the caching features after you install the plugin.
Really Simple SSL

streamlines the process of hard coding the HTACCESS file configuration for the domain-recognized setup of an SSL address in WordPress. If this is Greek to you, it's because this is a complicated task best left to experts in search engine optimization Jacksonville. In layman's terms, simply download Really Simple SSL, ensure your website domain's HTTPS version is the default address and the plugin will do the rest. It will also make sure SSL encryption and encryption protocols are automatically updated in order to protect against cyberattacks. 
Rank Math

also aids in website content optimization, offering real-time content insights via your WordPress dashboard. Snippet previews allow for easy optimization of titles and meta descriptions, reducing the amount of SERP display errors on search engines. This plugin is optimized for better speed and now has IndexNow integration resulting in quick alerts to search engines regarding changes to deleted or new content, redirects and much more. No need to wait for weeks on end for Google to crawl your content.
Easy Table of Contents

enhances user experience which boosts your SEO. This plugin presents a table of contents for users who wish to jump to key content. In addition, an HTML table is automatically added to your business website's posts and pages, generating internal hyperlinks within each page. Auto generated links are an added perk as they are based specifically on page content headings. Your table style can be easily configured within the dashboard settings.
Weglot

offers the most accurate translations to date. Translation is a huge component of SEO as Google considers grammar and copy to be major ranking factors. Unless you employ interpreters in every language, you need this translation plugin which will reflect the way languages are spoken in order to properly articulate your brand's story and what you offer. 
Bad WordPress SEO Plugins:
Unfortunately, there are harmful WordPress SEO plugins. While the good ones help boost your company website's ranking and visibility, there is a risk with any plugin authorized to access your business website:
Exploitable vulnerabilities.

Unsupported or outdated.

Incompatibility with existing site code or plugins.

Lack of adequate testing. 

Scam related.

 
Always ask your search engine optimization Jacksonville based expert to review the plugins in which you are interested prior to installation. Be sure you select a WordPress plugin which automatically backs up your business website while simultaneously guarding it with the correct SSL protection. There are many free WordPress plugins which can accomplish this for you. Add reputable WordPress SEO plugins to your website, properly configure them and enjoy the benefits of improved URL and content accessibility. Your organic traffic is bound to increase and your business website's SEO rankings are bound to soar very quickly!